Closest underground station – High Street Kensington
Entrance fee – £7
Website – http://bit.ly/1P7LeiV 
*Dedicated to Bubbles*
Hello readers!
It's hard to find time for quiet reflection in a busy life. Between work, home, blogs and the charity project I run with my friend Brontë, I barely stop! A couple of Sundays ago, I decided to get on a train to London and spend an afternoon in solitude, at a cultural location to be decided en route.
It's currently the summer holidays, which means that at the weekends most of the fun places to visit in London are overrun by overexcited children and their flustered, bickering parents. With work looming, this wasn't really the vibe I was after and so I decided to visit somewhere fairly under the radar; Leighton House Museum.
This house was designed in 1866 by the architect George Aitchison, specifically for Lord Leighton and took over 30 years to extend to its present form. It was opened to the public as a museum in 1929, making it the only open studio house in the UK. Lord Leighton was an English artist and sculptor who was knighted in 1878 and honoured with a peerage shortly before his death.
The tag line for this museum is "A Private Palace of Art", a phrase which had been circulating around my subconscious for a couple of weeks. It was therefore like fate that I found myself walking into a house that was so silent and stuffed with foreign treasures, I could barely believe my eyes.
When I walked into the Arab Hall, I felt like Howard Carter uncovering Tutankhamun's treasures for the first time in thousands of years. Of all the beautiful mosques and houses I've been to, it felt as though the best pieces had been plucked from each and placed into one room. In fact, that's exactly how Lord Leighton did build up such a beautiful collection – he was inspired by the tile work and interiors of the Middle East and took a little piece home as a souvenir, wherever he travelled.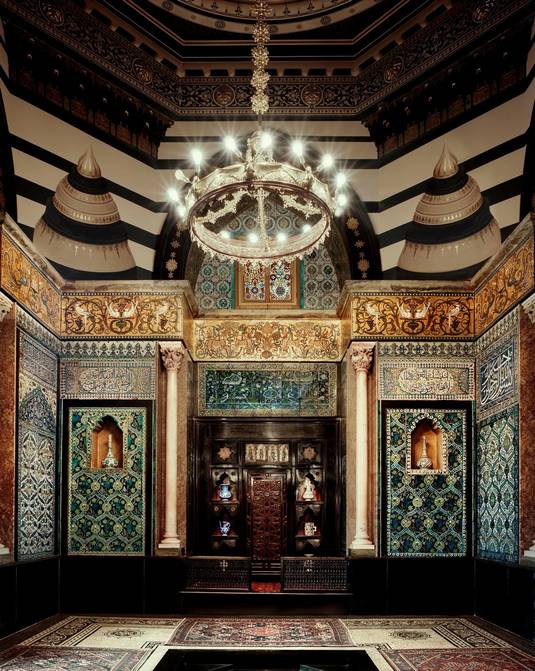 This picture doesn't even come close to doing this incredible room justice. Intricately carved wooden mashrabiya windows, Islamic inscriptions, colourful tile work, stained glass windows, Persian rugs and a trickling water feature all come together to create an atmosphere of pure peace.
Turning 180 degrees, you would now be facing the Narcissus entrance hall and stair case. This was so named because of the statue of Narcissus which stands in the middle of the hall, acting as a segue between the Arab Hall and the rest of the house.
The rest of the ground floor has a drawing room, library and dining room which seem to be built in more of a classic Victorian style (in comparison with the two halls).
Going up the staircase, you'll see evidence of the fact that first and foremost, Leighton was an artist. His work was inspired by biblical and classical themes, although it was not just his paintings that were displayed in his home. He had studied art on the continent before returning to England, where he became affiliated with the Pre-Raphaelites. You will therefore also find the work of Leighton's contemporaries on the walls, such as one of the founders of the Pre-Raphaelite Brotherhood, John Everett Millais.
A familiar face cropping up in a lot of the portraits displayed around his house was that of his model Ada Pullan. After meeting in 1879, Ada quickly became Leighton's muse and under his encouragement, she changed her name to Dorothy Dene.
Lord Leighton's personal life was mysterious – he was a lifelong bachelor which led many to speculate that he was gay (especially given his affectionate relationship with fellow artist Henry William Greville), although there were also rumours that he was in a relationship with Dorothy herself. Under Leighton's tutelage, Dorothy moved from being a working class girl from a 'broken home' to being a member of fashionable Victorian society, educated and poised for success as an actress. It is also rumoured that their relationship became the inspiration for the novel 'Pygmalion'. You can find out more about their relationship here.
This painting was the one that resonated with me the most, even though Lord Leighton had died before finishing it. "Clytie" represents the God Apollo's lover expressing her desperation at being abandoned by him.
Lord Leighton said of this painting – "I have shown the Goddess in adoration before the setting sun, whose last rays are permeating her whole being. With upraised arms she is entreating her beloved one not to forsake her. A flood of golden light saturates the scene, and to carry out my intention, I have changed the model's hair from black to auburn. To the right is a small altar, upon which is an offering of fruit, and upon the pillar beyond it I shall show the feet of a statue of Apollo." It is thought that this painting expressed Leighton's own desperation as his life sadly drew to a close. He died in 1896 from a heart condition.
The other rooms upstairs are his bedroom, his silk room and his huge art studio. I only lingered in his room for a few moments, as I was virtually alone in the house and to be honest, I was scared of being attacked by his ghost.
Access to the house also gives you access to the beautiful gardens, which are just as relaxing and home to a few of the sculptures in Leighton's collection.
All in all, I spent a wonderful couple of hours in this unique and exotic building and would definitely recommend it to anyone who loves art, interiors, history or even just some peace and quiet. Things to note are that photographs are not allowed inside (as tempting as it may be) and that pine cones on the seats mean that you're not allowed to sit there!
If you've enjoyed this post and want to find out about other hidden gems in London, you may also like to read my blog post on St.Dunstan in the East !
Thanks for reading,
~Plane Emoji